As I shared in my last post, I went to a homeschool conference over the weekend (along with my hubby and 4-month-old).
One of my favorite talks was from mama x 19, Michelle Duggar of the TLC show, 19 Kids and Counting. Yes, nineteen. And as she says in the intro to her show: she delivered every one of them.
The Duggars get a lot of flack for many aspects of their lifestyle, but Michelle is clearly a woman who loves her children and works incredibly hard at her vocation of motherhood — and I really enjoyed hearing about her vast experience (besides the fact that I find her calm, maternal voice rather hypnotizing).
And so, I scribbled notes in the back of my green Mead Five Star notebook like a college student to reflect on later — and also, to share with you.
Some notes on parenting from the mouth of Michelle:
1. Whoever praises your child will have their heart. Michelle talked a lot about the importance of encouragement and praise, but was careful to differentiate between flattery and praise, saying: Praise acknowledges a character trait that a person has developed — whereas flattery is often an exaggeration of the truth. She believes the more we praise our children for the traits we want them to develop, the more they are eager to exhibit them.
2. If you're feeling angry, whisper. Michelle realized that she could control her emotions and calm her frustration when she lowered her voice instead of raising it — and that it is also more effective at getting her children's attention. She also reminded the audience that our children belong to God, saying: "These children are not my own, they are God's. If I were a daycare teacher and these children went home at the end of the day to report about me — how would they describe my behavior to their parents?"
3. The top 3 character traits all mothers should have: love (vs. selfishness), meekness (vs. anger) and joyfulness (vs. self-pity). She elaborated on the last one saying that "happiness comes from happening" but true joy is from knowing God — no matter if the laundry piles are high and the dirty dishes are over-flowing. She also discussed the importance of having a home full of joy, saying that if a home is a not a joyful place to be, your children will be out of there as soon as possible.
4. The top 3 character traits children should work on: attentiveness (vs. unconcern), obedience (vs. willfulness) and self control (vs. self-indulgence). Michelle encourages attentiveness because she says that it is "showing the worth of a person by giving undivided concentration to his words and emotions." [I.e. Training children to be good listeners!] She emphasizes obedience because she says, "If they won't obey my voice, they won't obey God's."
5. Our children often don't know what we expect. Michelle encourages parents to set clear expectations and be consistent — and to also work on practicing good behavior rather than constantly correcting bad behavior. For example: if her child demands, "I'm thirsty!" Michelle gently reminds them to ask, "May I please have a drink?" and has them repeat it five times to practice it. Or if a child demands, "That's mine!" Michelle gently reminds them to ask, "May I please have it back?" and has them practice that good behavior until it becomes a habit.
Me with Michelle and Jim Bob!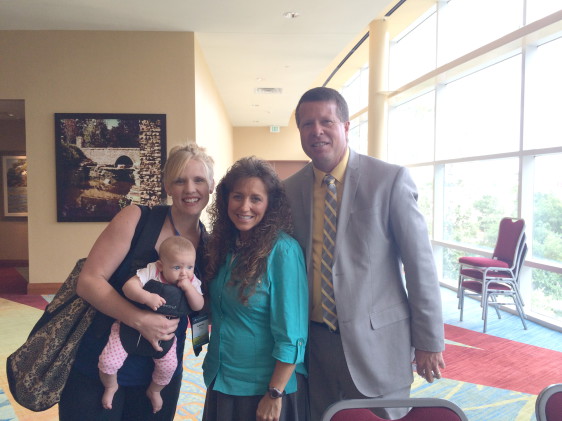 { 1 comment }