One of my favorite places in the world growing up was my Grandma's house — the home of my mom's mother — in a sleepy little town in East Texas.
When I was in college, she switched houses with my aunt and uncle — going from her big red brick house at the top of the hill to their log cabin by the pond at the bottom of the hill. But no matter, the cabin soon became "Grandma's house," too, as her stuff and her scent and her presence were now all in it.
It wasn't a fancy house by some people's standards — but, to me, it was full of great treasure. Its richness lay in the stories that every piece of furniture, every framed picture, every family heirloom held. My Grandfathers's old upright bass still stands in the corner of the cabin (which is still in our family) — even though Grandma passed away the summer I was pregnant with my first-born.
I think about her house sometimes while I sit in my new home, just built this Spring.  A home where I am planting fruit trees and raising babies and growing a family with the love of my life.
I am in no hurry to fill the rooms like a Pottery Barn catalog (though there are certainly a few things on the wanted-list!) Because I know first-hand that fancy, shiny things are not what gives a home that special "je ne sais quoi" as the French say: the word meaning, literally, the "I don't know what." That pleasant quality that is hard to describe. The feeling of home. The feeling that — no matter where I am or what I'm doing — covers me like a warm blanket of well-being.
As the daughter of an Air Force officer, we moved a lot growing up, but Grandma's house: it was always the same. And so was she. With her games of Yahtzee and her Camel cigarettes and her homemade "milk chocolates" (made only with real cocoa and sugar). Every summer smelled the same on her front porch — like cut grass and hot dirt and an old dog panting at my feet.
I love beautiful things and decorating and finding that perfect little something to make a room feel happy, but I always bring with me the reminder of a house that — with old, worn couches and hand-me-down bedroom suites and decades-old decor — was one of the most beautiful places I've ever been. And with a big happy family often gathering there, I'm sure there were smudges on the windows and dust on the floor — but I don't remember any of that. And my kids won't remember any of that about this house either.
One of my other favorite places in the world growing up was my Nana's home — the home of my Dad's mother — though she and my Papa moved a few times over the course of my life.
As an Army chaplain's wife, my Nana was a master entertainer. She had about a billion place settings of Blue Danube china and all the linens to match. She had every one of those kitchen gadgets sold on late-night TV and served fresh fruit topped with vanilla pudding and whipped cream out of stemmed glasses for dessert. And there was always dessert.
She was an impeccable decorator and a generous hostess and though she wasn't big on crumbs in the livingroom, when it was just me and her, we'd sit on her couch — my feet propped on her lap — and eat brown sugar Pop Tarts while watching The King and I.
Nana was my favorite date in college — we'd meet for lunch or coffee many days of the week and she truly had the spiritual gift of hospitality, as in: she made everyone feel special. It came natural to her, the ease of her smile, the sparkle in her eyes. She could get away with anything and everyone loved her — mostly because, they sensed she loved them. And she did.
These two women — though different in many ways — were very much the same in the most important way: they knew how to make a house into a home. They were, in the truest sense of the word, home-makers. It's a word that has acquired a sort of frumpy feel nowadays, but that's exactly what they were: makers of a home. And even though they both also worked outside the home when their kids were a bit older, I know they would have agreed with C.S. Lewis when he said the work of a homemaker is "the most important."
It is the work that creates the places that — even when we're grown — live on as our "favorites in the world." It is the work that makes us feel loved, special and safe. It is the work that makes not just homes, but the people who live and visit there — it makes us who we are.
We can travel a lot of places in this life, but few remain within us even after we leave them behind. The homes that built me — my grandparents' and my parents' contain a magic that lives on as I make my new favorite place in the world: the home where I raise my children.
And as I make "milk chocolates" and delight in beautiful stemware — as my prepare my mom's herb chicken and her famous oatmeal, chocolate chip cookies — as I decorate with hand-me-downs and forget-me-nots — as I rock my babies and sing them the same lullabies that lulled me to sleep as a child —
I pass on a legacy of love.
For that is truly what is made by a home-maker. A love that serves, that sustains and that stays with us forever.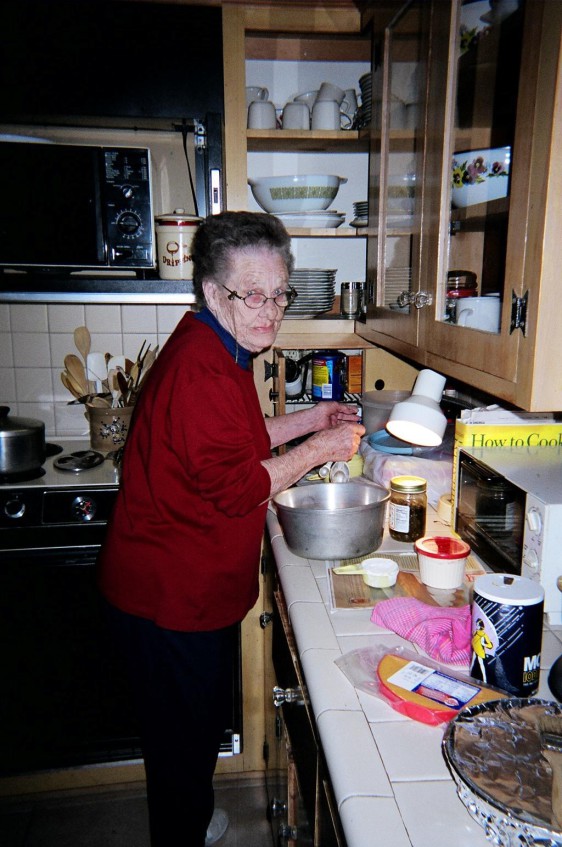 My Grandma in the log cabin