One of my favorite movies is The Pursuit of Happyness with Will Smith.
Have you seen it? I cry like a baby every time I watch it.
It's a movie about the love of a parent, the trust of a child, the endurance of the human spirit — and mostly, the universal truth that we are all, in our own ways, seeking joy.
This driving force guides many of our decisions — and rightfully so. We were created with this longing inside us — a restlessness that longs for nothing less than peace, truth and joy. [The better-behaved cousins of sex, drugs, and rock n' roll.]
We desire to be overjoyed and yet we're often left underwhelmed, and we wonder: what is the secret to happiness?
My little Kate knows.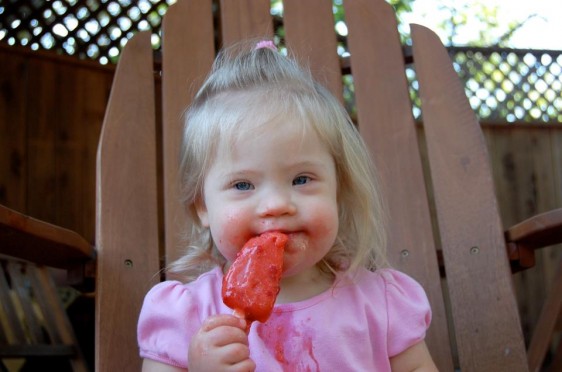 99 percent of adults with Down Syndrome report they are completely happy with their lives.
But not all of us were born with the extra special perspective that comes with that extra special chromosome.
So we, like Will Smith's character in The Pursuit of Happyness, have to seek it for ourselves.
Best-selling author, Gretchen Rubin, has done just that.
Gretchen wrote the #1 New York Times bestseller that I'm sure you've heard of: "The Happiness Project: Or, Why I Spent a Year Trying to Sing in the Morning, Clean My Closets, Fight Right, Read Aristotle, and Generally Have More Fun."
Here's an excerpt:
Getting started
I'd always vaguely expected to outgrow my limitations. One day, I'd stop twisting my hair, and wearing running shoes all the time, and eating exactly the same food every day. I'd remember my friends' birthdays, I'd learn Photoshop, I wouldn't let my daughter watch TV during breakfast. I'd read Shakespeare. I'd spend more time laughing and having fun, I'd be more polite, I'd visit museums more often, I wouldn't be scared to drive.

One April day, on a morning just like every other morning, I had a sudden realization: I was in danger of wasting my life. As I stared out the rain-spattered window of a city bus, I saw that the years were slipping by. "What do I want from life, anyway?" I asked myself. "Well … I want to be happy." But I had never thought about what made me happy or how I might be happier.

I had much to be happy about. I was married to Jamie, the tall, dark, and handsome love of my life; we had two delightful young daughters, 7-year-old Eliza and 1-year-old Eleanor; I was a writer, after having started out as a lawyer; I was living in my favorite city, New York; I had close relationships with my parents, sister, and in-laws; I had friends; I had my health; I didn't have to color my hair. But too often I sniped at my husband or the cable guy. I felt dejected after even a minor professional setback. I drifted out of touch with old friends, I lost my temper easily, I suffered bouts of melancholy, insecurity, listlessness, and freefloating guilt.

As I looked out the blurry bus window, I saw two figures cross the street — a woman about my age trying simultaneously to balance an umbrella, look at her cell phone, and push a stroller carrying a yellow-slickered child. The sight gave me a jolt of recognition: that's me, I thought, there I am. I have a stroller, a cell phone, an alarm clock, an apartment, a neighborhood. Right now, I'm riding the same crosstown bus that I take across the park, back and forth. This is my life — but I never give any thought to it.I wasn't depressed and I wasn't having a midlife crisis, but I was suffering from midlife malaise — a recurrent sense of discontent and almost a feeling of disbelief. "Can this be me?" I'd wonder as I picked up the morning newspapers or sat down to read my e-mail. "Can this be me?" My friends and I joked about the "beautiful house" feeling, when, as in the David Byrne song "Once in a Lifetime," we'd periodically experience the shock of thinking "This is not my beautiful house."

"Is this really it?" I found myself wondering, and answering, "Yep, this is it."But though at times I felt dissatisfied, that something was missing, I also never forgot how fortunate I was. When I woke up in the middle of the night, as I often did, I'd walk from one room to another to gaze at my sleeping husband tangled in the sheets and my daughters surrounded by their stuffed animals, all safe. I had everything I could possibly want — yet I was failing to appreciate it. Bogged down in petty complaints and passing crises, weary of struggling with my own nature, I too often failed to comprehend the splendor of what I had. I didn't want to keep taking these days for granted. The words of the writer Colette had haunted me for years: "What a wonderful life I've had! I only wish I'd realized it sooner." I didn't want to look back, at the end of my life or after some great catastrophe, and think, "How happy I used to be then, if only I'd realized it."

I needed to think about this. How could I discipline myself to feel grateful for my ordinary day? How could I set a higher standard for myself as a wife, a mother, a writer, a friend? How could I let go of everyday annoyances to keep a larger, more transcendent perspective? I could barely remember to stop at the drugstore to buy toothpaste — it didn't seem realistic to think that I could incorporate these high aims into my everyday routine.

The bus was hardly moving, but I could hardly keep pace with my own thoughts. "I've got to tackle this," I told myself. "As soon as I have some free time, I should start a happiness project." But I never had any free time. When life was taking its ordinary course, it was hard to remember what really mattered; if I wanted a happiness project, I'd have to make the time. I had a brief vision of myself living for a month on a picturesque, windswept island, where each day I would gather seashells, read Aristotle, and write in an elegant parchment journal. Nope, I admitted, that's not going to happen. I needed to find a way to do it here and now. I needed to change the lens through which I viewed everything familiar.

All these thoughts flooded through my mind, and as I sat on that crowded bus, I grasped two things: I wasn't as happy as I could be, and my life wasn't going to change unless I made it change. In that single moment, with that realization, I decided to dedicate a year to trying to be happier.
And so she did.
She spent the next 12 months (I like projects with time-frames) tackling happiness resolutions and seeing what worked for her and what didn't. And as the book description states, "Her conclusions are sometimes surprising—she finds that money can buy happiness, when spent wisely; that novelty and challenge are powerful sources of happiness; that "treating" yourself can make you feel worse; that venting bad feelings doesn't relieve them; that the very smallest of changes can make the biggest difference—and they range from the practical to the profound."
Today, Gretchen took a moment to be a part of my Three Questions series, which was appropriate because happiness is what these three questions are all about.
Me: What is something that makes you giddy like a kid?
GR: A trip to the library.
Me: What is something that makes you passionate like a grown-up?
GR: Writing.
Me: What were you looking forward to most when you woke up this morning?
GR: My first cup of coffee. [Me: me too!]
***
Follow Gretchen Rubin on Twitter at @gretchenrubin.
Buy The Happiness Project here. And read an excerpt from her latest book, Happier at Home, here.
"When my daughter was too young to walk to school, we rode the bus. Each morning I gazed impatiently down 3rd Avenue. A day off was a treat — until one morning. 'Look mommy, a dog!' she cried. It hit me: this was her childhood. One day we'd no longer be riding that bus. Now I think, 'Another chance to ride the bus.' The days are long, but the years are short." — Gretchen Rubin
*3 Questions is a fun interview series where I ask the same 3 questions to different interesting people. See more interviews here.