My husband was working late in our home-office a few years ago and I was browsing our big bookshelf. Stuffed full of books (mostly my husband's) on a variety of topics, I pulled out a plainly titled, My Life with the Saints, by Jesuit priest, Fr. James Martin.
Bored – and hoping my presence would urge my husband to finish up that last email – I plopped down on the floor and started thumbing through the book. I expected some sort of theological dictionary of sorts, but what I found was much more compelling. I flipped to the first page of the chapter about Mother Teresa — a hero of mine — and began to read.
A couple of weeks later, I had finished the book.
Written in mini-narratives, each chapter is an engaging story of Fr. James' experiences with various saints — and with his own spiritual growth. In the book, he speaks of working in the ghettos of Jamaica, the gang territories of urban Chicago and of visiting various Holy lands around the world. Though the material specifically regards Catholic saints, readers of any faith (or no faith!) would enjoy his visual storytelling — and the historical context around his fascinating cast of characters. No surprise that My Life with the Saints was named One of Publishers Weekly's Best Books of the Year.
Recently, Fr. Martin has written about a subject that I love: the importance of joy. His recent book Between Heaven and Mirth: Why Joy, Humor, and Laughter Are at the Heart of the Spiritual Life "invites believers to rediscover the importance of humor and laughter in our daily lives and to embrace an essential truth: faith leads to joy."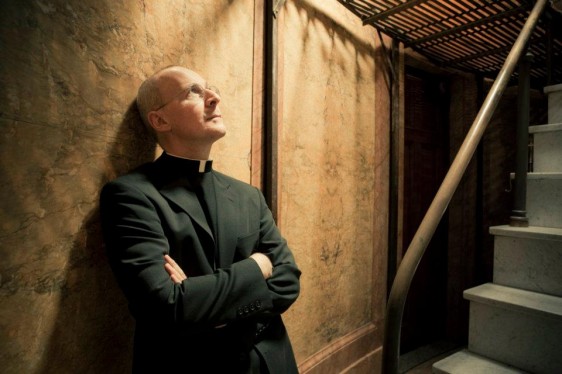 Photo of Fr. Martin by Chris Crisman
I have appreciated his writing and perspective for some time — and was thrilled that he agreed to participate in my 3 Questions Series (on Easter Eve!)
Me: What is something that makes you giddy like a kid?
FM: Hmm…that's a tough one. I could be pretty giddy as a kid! But I think it's when I'm out with close friends over dinner and we start to find something really funny–even silly–and start to laugh and can't stop. Then when it's hard to control, I start to feel like a kid again. So laughter is the shortest route from adulthood to childhood.
Me: What is something that makes you passionate like a grown-up?
FM: Well, I love to write. And when I'm writing I feel like all the other cares and concerns of the world just float away. Of course I'm writing to "help souls," as Jesuits are supposed to do with all their work, so it makes it easier to focus on the other when I'm doing it. So that's what fills me with passion: writing to help souls.
Me: What were you looking forward to most when you woke up this morning?
FM: Oh, that's easy: seeing my family. It's the day before Easter and I'm on my way to see my sister's family and my mom. Best of all, my two nephews–age 6 and 13–will be there, and they always, always make me laugh. Can't wait!
***
Follow Fr. Martin on Twitter at @JamesMartinSJ.
"If you're a religious person, or a spiritual-but-not-religious person, or if you're a seeker or a doubter or an agnostic or an atheist, here's some baccalaureal advice: Don't take yourself so damn seriously. Laugh at yourself. Use some humor to speak truth to power, especially on behalf of the poor. See what happens when you incorporate joy into your spiritual life, and try to locate God's delight. Overall: be joyful; cultivate a sense of humor and laugh — for God's sake." – Fr. James Martin in his Baccalaureate Address at the University of Pennsylvania
*3 Questions is a fun interview series where I ask the same 3 questions to different interesting people. See more interviews here.