I've been thinking a lot lately about homemaking.
Mostly because we're literally in the process of home making — we're building a home. Right now we're living in 1,000 square feet or so of temporary apartment space while the plans are made, the foundation is poured, the walls are framed.
It's been an adventure — 3 children, 2 adults and a fat cat in such a small space — but it's also been a lesson of home making in the bigger sense: how we use the spaces and places we're blessed with, how we take whatever set of walls and floors we dwell in and turn it into the place of comfort that no other can replace.
And for us, that's been the unique challenge of building a new home: how can we make this brand-new house feel like my Grandma's old log cabin? Our parents' houses, both decades old? My Papa's old home office with the wooden desk? How can we capture the dustiness of an old attic filled with childhood memories and old love letters? The kitchen with the squeaky faucet? The pathway with the wobbly stones?
Well, we can't, of course.
Those are the riches of the house well-loved — a house that has earned the title "home" because of the living it's seen. And no brand-new granite, factory-painted cabinets or engineered hardwood floors can compare to that — at first.
It is a blessing to be able to find, create and bring to life a "dream house." But the greater blessing is realizing we don't need it.
It's realizing that this tiny apartment has somehow become a home for us — the crayon-marked walls, the slightly bent window blinds, the one pile of junk on the bar that we never seem to organize. Today we made a tent out of blankets, played marching band in the living room, "cooked" with dry pasta and rice on the floor of the kitchen. We've squeezed our too-big double stroller through the front door and have grown accustomed to it as just another piece of furniture.
We've gotten used to the heavy-footed neighbors who do jumping jacks above us at 6 am. The leaf-blowers on Saturday mornings. The solarium-turned-bedroom with a queen-sized mattress on the floor.
We've dreamed of making our new home without realizing that we've made a home here — and isn't that the beauty of it all. To make a home, we just have to make a life.
We've spent hours on Houzz.com looking at what "style" of house we like. And it's tempting to get worried that we'll pick the wrong thing, that we'll change our mind in 5 years, that it won't be what we dreamed.
But then I remember:
Any space that is filled with the people I love will always be my dream home.
The rest is just the details.
"Where we love is home — home that our feet may leave, but not our hearts." Oliver Wendell Holmes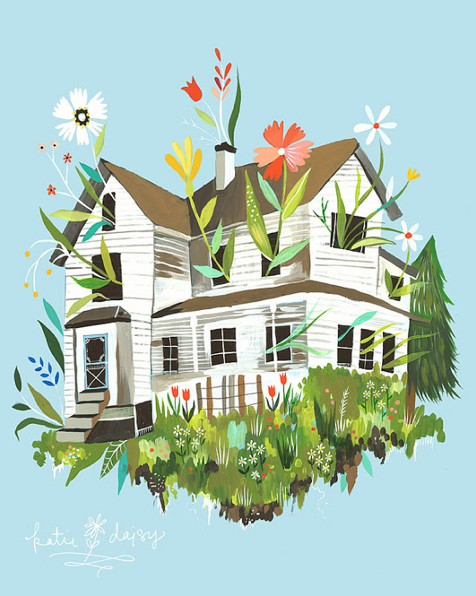 Artwork from the ever-so-talented, Katie Daisy.