It was my 31st birthday in the year of the dragon. The feast day of St. Michael the Archangel. The almost last-day of a hot September in Texas.
And, because God knew it was my favorite weather since before I can remember, it rained. And not just a faint mist — like the ones you float through on the "lazy river" at resort waterparks — but a full-on downpour of heavy drops that turn dusty paths into thick, muddy pools.
My parents were in town to celebrate — and when asked what I wanted to do, I replied matter-of-factly: "I want to eat baklava."
And so, despite the weather forecast, we loaded into the minivan for a major feast at the the 56th Annual Greek Food Festival of Dallas.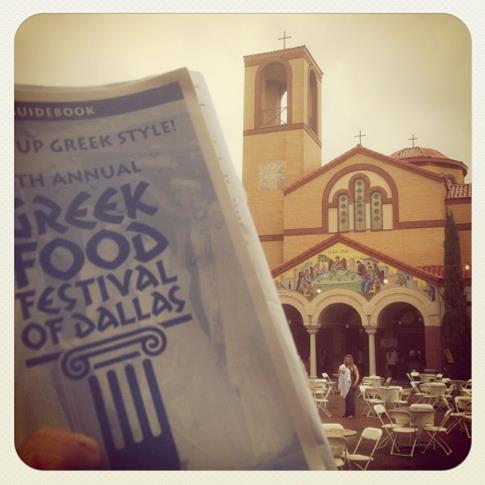 I am there in the background — holding the 7-week-old who is wrapped in a blanket-pretending-to-be-a-raincoat.
In the courtyard, lonely tables and chairs sat abandoned in the rain — the wet, white plastic longing for warm travelers to keep them dry. But don't let this fool you about the life of the festival.
Under the tents, well, that was a different story.
Families and friends gathered and danced to streaming Greek music that flowed from speakers. They sat around tables sipping cold Greek beer and eating hot gyros and souvlaki with warm, thick pita bread. Greek french fries, hot and crisp and perfectly golden were sprinkled with sea salt and oregano — and for dessert? Flaky, gooey baklava, Greek coffee and decadent Loukoumades (donut holes coated in honey and chopped nuts.)
Inside the auditorium, traditional dancers in costume linked arms and entertained the crowds as vendors sold art and jewelry and gourmet Greek foods.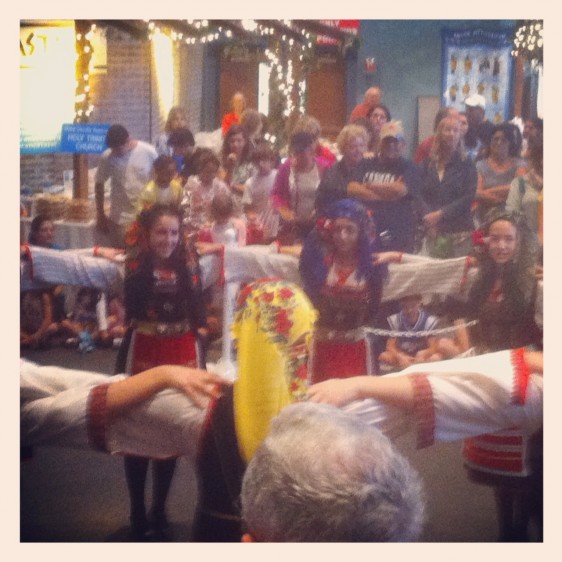 And across the courtyard? The host of the show — the beautiful Holy Trinity Greek Orthodox Church.
The scent of sweet incense wafted through the corridor as crowds listened to a tourguide share traditions and church history. And in colorful contrast to the busyness, the music, the excitement of the outdoors — visitors walked quietly through the peaceful sanctuary, admiring majestic paintings lit by the soft, rainy-day light that flooded in through vaulted ceilings.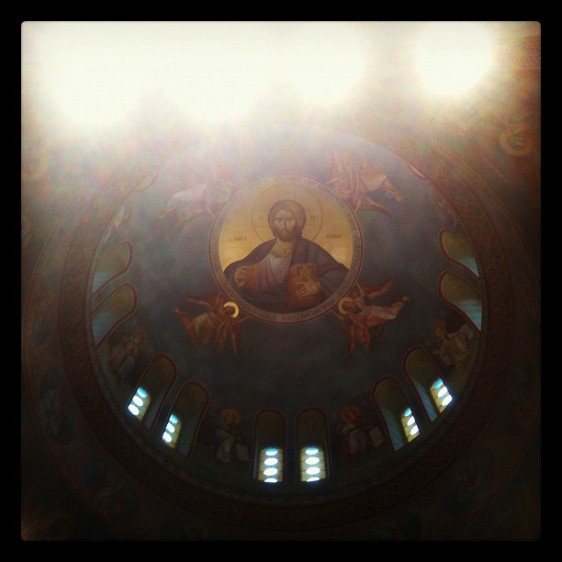 The ceiling of Holy Trinity.
Soon it was time to go — and we rushed back to the valet parking under the leaking sky. The attendants brought up our minivan — and a kind young man rushed across the parking lot to open my door as the others made sure the rest of the family was loaded up, safe and sound.
And off we drove — our bellies full, our hearts content and our smiling lips singing a happy, "Opa!" on my very happy birthday.