The evening air was crisp — Fall was coming.
It hadn't yet arrived, but we anticipated it as we loaded the crew into our spaceship of a minivan.
The diaper bag was packed with snacks and sippy cups, diapers and burp cloths and child-sized sunglasses to cut the glare from the setting sun.
We arrived in the parking lot just on time — along with hundreds of other happy families, just like us, but also not like us at all, pulling toddlers in red wagons and pushing babies in umbrella strollers. We hurried, it was almost launch time.
Dads walked fast, politely encouraging the toddlers gripping their hands to "walk faster." And our 3-year-old — he ran.
"Watch where you're going," I cautioned.
"Are you coming guys? Are you coming?" He exuberantly asked.
And then, we saw it.
In the distance, above the sea of Family Cars and Swagger Wagons, was the star of the show.
The Hot Air Balloon.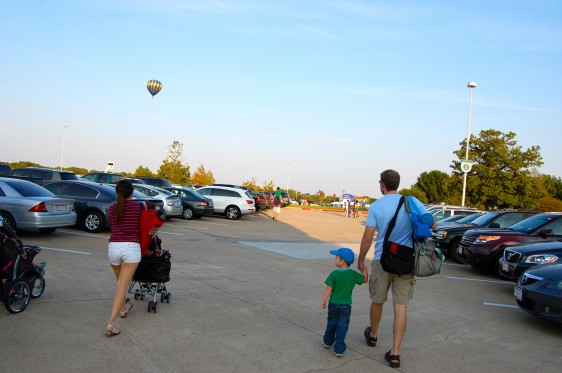 "Can you see it?" I asked.
He squealed with delight.
Soon we were there — at the top of a grassy hill peppered with blankets and tailgate chairs that sloped to a valley flooded with people. Food vendors handed out cups of ice cold lemonade and greasy turkey legs, sugar-frosted funnel cakes and cheese-drowned nachos. A cover band sang, "Play that Funky Music, White Boy," and a crowd of teenagers danced. And in the distance — a bounce house.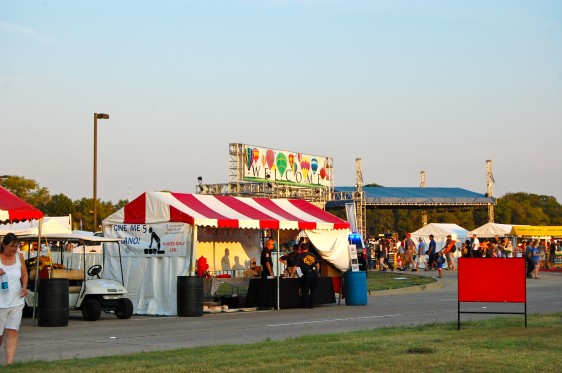 We made a stop at the Port-o-Potties (followed by a Purrell hand-washing), picked up a pulled-pork sandwich, some Sun Chips and lemonade and found our spot on the hill.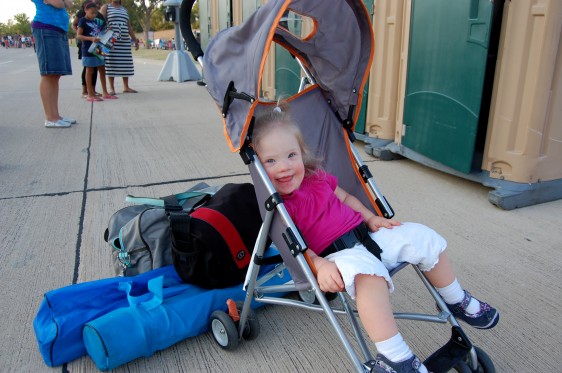 And then, we watched.
We watched colossal, colorful balloons being filled with hot air. But even more colorful was the people-watching. People who weren't just people — but people who were parents. Thirty-five-year-old men carrying 35 extra pounds who ran their children on stroller races just to hear them giggle.
Moms who made friends because their boys bumped into each other while parading with glow sticks on the hill.
Old lovers in the twilight of their marriages, sharing nachos and a snuggle, watching the balloons rise as the sun set.
And our own 3-year-old — who made best buddies with a set of grandparents (who were there alone) near us. He started to cry when they had to leave. "I don't want them to go," he pouted as they disappeared like balloons over the hill.
Because he felt what we all felt, gathered together, young and old.
It's that special something inside us that is not just unique to children or adults — but to all of us. The something that delights in the excitement, the colors, the smell of cotton candy, a cool breeze and a field of glowing Hot Air Balloons.
And the something that wants to take in the magical moment, before it floats away.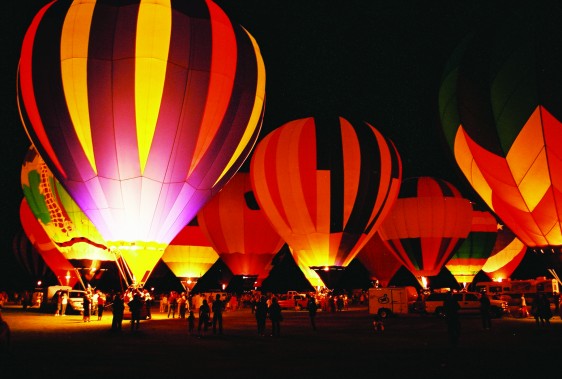 Balloon glow source