When the sonographer told me the news yesterday, I was surprised by my, well, surprise.
After all, it is a 50/50 chance. For weeks I've "felt like it was a girl," but then the other night had a dream it was a boy. I had no real "preference" — it would be nice to have two boys fairly close in age, I thought. But then again, it would be nice for Kate to have a girl close to her age.
And then, the verdict: "You sure you wanna know?" the sonographer asked me. I nodded with an enthusiastic yes! "Three lines," she commented, "It's a girl."
My eyes watered with joy. I thought about where we were about 20 months ago when we found out Kate was a girl. I thought about how we told our families with a pink cake, how I dreamed of my first little girl and all the tutus and bows that would come along with her. I thought about how my boy would be a protective big brother — and in their teenager years, intimidate her suitors with his chivalrous "big brotherness."
I thought about how she was born 4 months later with Down Syndrome — and though she wasn't the little girl I pictured exactly — she was still just as full of tutus and bows and girly cuteness. (And with her contagious smile, she will most definitely need a big brother to intimidate suitors!)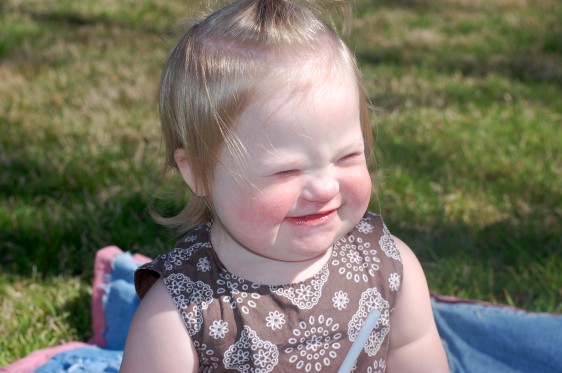 And now I have her little sister growing in my belly — a little girl that I can imagine, but who we won't really know until she arrives.
But that's the cool part about having babies: no matter if we dream about a boy or a girl, a bookworm or an athlete, an extrovert or an artist, they will be exactly who they are meant to be, perfectly themselves.
And as a mama, all I have to do is love them.