(Just another Sweet Saturday post.)
Have you been to Potbelly Sandwich Shop?
So yummy.
You might not have one near you. In that case, you should probably move.
Besides lots of good sandwiches, they have delicious desserts. Sometimes we use sandwiches as an excuse just to go get one of their chocolate chip oatmeal or sugar cookies or mostly…
The Sheila's Dream Bar!
Sheila is the original CEO's wife and she concocted this fabulous, gooey, sweet n' slightly salty delicacy that consists of a mixture of caramel, chocolate, and oats (and maybe some other stuff, but she's not telling us!)
I've been trying to duplicate these bars at home for awhile as my hubby is gaga over them. But last night, friends, well — we got pretty close, I'll tell ya'.
Here's the recipe for our ALMOST-Sheila's-dream-bars. You'll love 'em.
Almost Sheila's Dream Bars
Wet ingredients:
40 unwrapped caramels
Dry ingredients:
1 cup flour
1/2 cups of old fashioned oatmeal (NOT the quick 1-minute kind)
3/4 cup light brown sugar
1/2 teaspoon baking soda
3/4 cup of butter (1 1/2 sticks) — softened
2 cups semisweet chocolate chips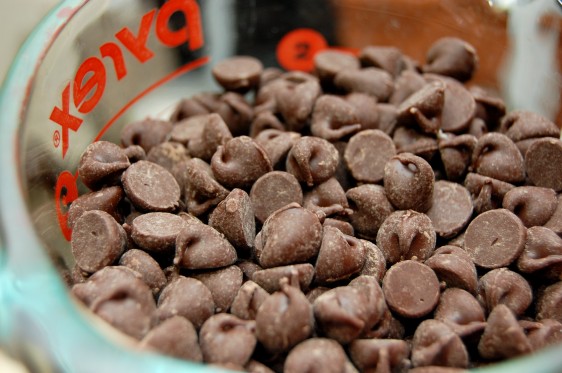 Directions:
Preheat oven at 350. While oven is heating, melt caramels and evaporated milk in saucepan — be careful not to burn. Remove from heat as soon as it is melted and set aside. Mix together all of the dry ingredients above. Once mixed, press half of the oatmeal mixture into a 9 x 13 baking pan and bake at 350 for 10 minutes.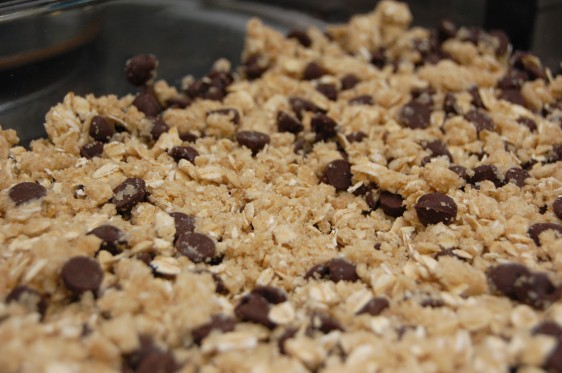 Remove from oven, let cool a few minutes. Then top with melted caramel mixture — and then the remaining oatmeal mixture.
Bake another 15 minutes.
And here's the most important part. Once you remove it from the oven, sprinkle very lightly with sea salt (kosher salt) — just enough to add a little salt to every bar. Maybe just a few granules per bar.
And then, let it cool. This is the hardest part. I recommend a few hours in the fridge for full effect because they come out of the oven really gooey (and you don't want to over-bake) and they need time to set.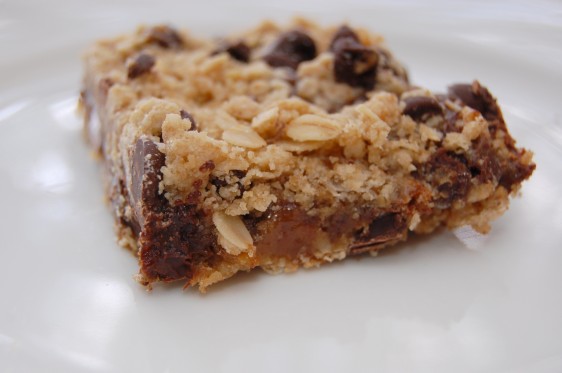 These are yummy. But you need to try a real Sheila's Dream Bar, too. And then one of these. And then another real one. You know, for comparison sake.