I dug my hands into the dark, cool earth, searching for buried treasure.
I felt it before I saw it. The rough, firm skin of the edible root met the tips of my fingers and I gently pushed away the soil that blanketed it with the precision of an archaeologist uncovering dinosaur fossils. Soon it was within my grasp. I delivered it from the earth into the air, letting the first wave of warm sunlight come over its orangey-pink flesh. Ah, our first sweet potato!
After months of watching dark green vines overflow from rustic cedar box beds, wondering what was happening underneath the surface — here was the reveal. A little smaller and sillier looking than I had expected, but still, a miracle nonetheless.
I carried on a bit more hurried, a bit less patient. I became more comfortable with how gentle (or not gentle) I needed to be to dig up the potatoes without damage. My mom helped across from me, her forearms buried in compost and soil, always seeming to win the "biggest catch" prize. As the sun slid into the late-afternoon sky, shade fell upon three wire baskets overflowing with dirt-powdered starches. My little blonde helper piled them in. My 6-year-old boy searched for caterpillars.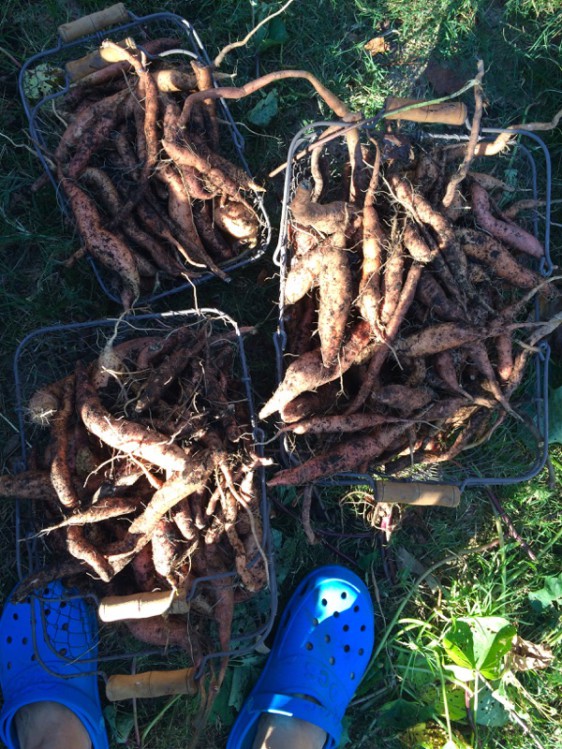 No matter how colorful and loud the TV or media may be — can anything enthrall a child more than the entertainment of the earth?
No sound more curious than the croak of a bullfrog. No colors more enticing than the hues of a vegetable patch. There is no artificial replacement for the joy and gratitude of digging your hands into the ground and pulling out something that can be turned into a Thanksgiving pie topped with whipped cream — or baked and caramelized with rosemary and sea salt.
Up the hill I went in bright blue garden shoes to the warm patio where the sun still shed her bright smile. I cleaned off the dirt and trimmed the roots, sitting below the porch swing. It was quiet. So quiet, in fact, that I had time to thoughtfully think about what sounds I could actually hear — a humming car in the distance, a singing cricket, the snip, snip, snip of my garden shears. I poured the pampered potatoes onto spread-out butcher paper to sunbathe and cure, wishing them a peaceful rest.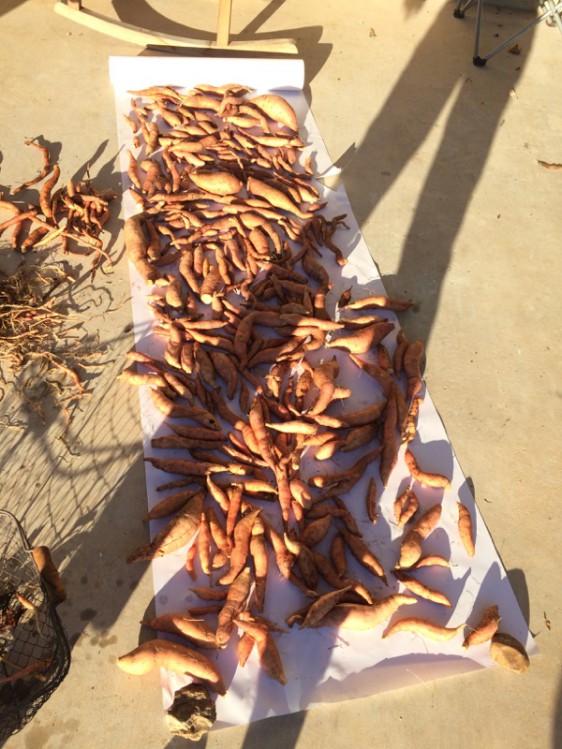 It has been my most satisfying harvest to date, doubled by the anticipation of holidays to come. For in doing this work and harvesting it from the earth we celebrate, as Wendell Berry says, "our dependence and gratitude, for we are living from mystery, from creatures we did not make and powers we cannot comprehend."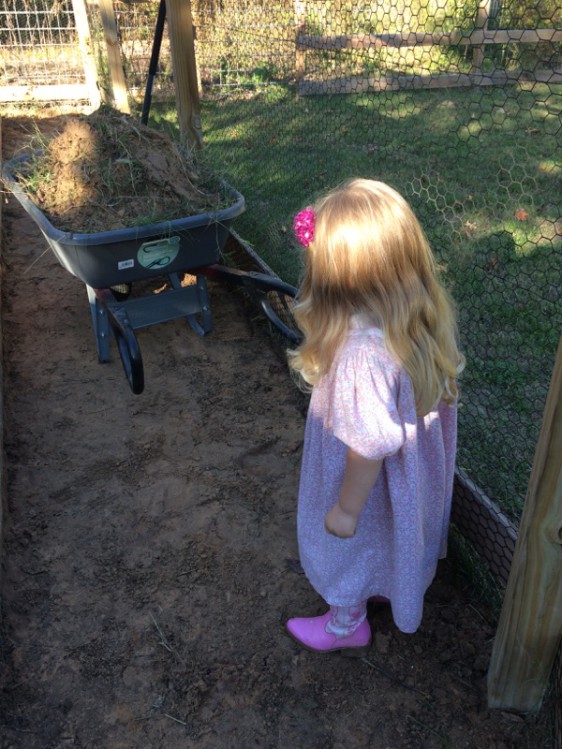 How apropos for this month especially, being that the heart of Thanksgiving is this very thing: an acknowledgement that all we have is a gift.
We spent most of Sunday afternoon searching for buried treasure — but of course, when you dig deep, you find more than you bargain for. And somewhere among that pile of silly looking sweet potatoes is an even deeper satisfaction buried within the gardener. It is a gratitude that overflows like the vines of her harvest into the heartfelt words of daily grace.