I had dirt in my socks and sweat on my neck as I clumsily pushed our dusty lawnmower back into the shed.
I needed to hurry. The girls were taking naps and would be up soon — and I didn't want my work-from-home husband to be interrupted because of my Lucille Ball shenanigans.
I dusted my hands and locked the wooden white shed door and then — ah! My Ricky Ricardo was standing behind me holding the baby.
"What're you doing?" he asked suspiciously.
"Project Gratitude," I said smiling as I walked past him into the house.
He chuckled. He knows me well.
"You mowed the median, didn't you?" he asked. I had been talking about it for months.
"And picked up some empty water bottles… Halloween candy wrappers…" I responded.
"You sure this isn't Project H.O.A.?" he teased.
"I thought it would be fun," I explained, "to give thanks in a way that was more than just a thank you."
He wasn't following.
"Look, I love how one of our neighbors created and maintains those little gardens on the other medians. I love looking at them as I run. And I love when people put cute Fall pumpkins on their porches and plant bright, colorful flowers in their beds in the Spring. It's the little things that all of us do together that make our neighborhood warm and cozy. But I'm not going to go put a thank you note on their door that says, 'Thank you for the beautiful porch pumpkin.' So I thought: maybe in the spirit of Thanksgiving, we could think of some purposeful things to do as a family to show gratitude, to give back — and to remind ourselves how blessed we are."
In the spirit of giving, he handed me our chunky 12-week-old.
"I like that idea," he said.
And so it is. It will be a fun, blessed month.
"As we express our gratitude, we must never forget that the highest appreciation is not to utter words, but to live by them."–  John F. Kennedy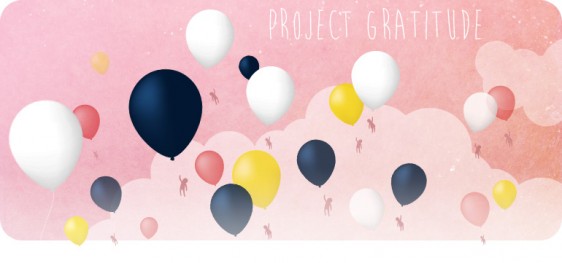 Week #1:  I am grateful for my neighborhood.