We didn't know Kate had Down syndrome until she was born.
Knowing that it wouldn't make any difference, we didn't choose to have any prenatal testing — and so, her diagnosis was a surprise to us on her birth day. People have asked me since if I would have preferred to know beforehand and I still say "no." I like to deal with the whole reality of things — not pieces of it — and meeting her added perspective to the situation instead of this ambiguous, surreal "diagnosis" circling in our heads for months. Suddenly, Kate was here. And suddenly, her diagnosis was something we had to deal with.
And then one day soon, it wasn't something we dealt with — it was something we celebrated.
But that one day – that celebration day – when the sky opened and the gift of perspective fell upon us – that can't be conveyed in a sterile doctor's office during a prenatal diagnosis.
And, truthfully, most doctors don't even know where to begin — even with the best of intentions. And so they shift their feet, they stick to the text book, they "share the options." It's not their fault. They, too, are operating from the same place we were on the day Kate was born — and we focused on the facts. But the "facts" are not where the magic lies.
Because if you look at the facts:
— 79% of parents report their outlook on life is more positive because of their child with Down syndrome.
— 99% of adults with Down syndrome report they are happy with their lives, 97% like who they are, and 96% like how they look.
— And yet, the majority of babies who are diagnosed with a prenatal Down syndrome diagnosis are terminated.
And for the scared, hurting parents who just received an overwhelming diagnosis — they're not processing the facts that if quality of life is the only consideration here, the odds are this baby will make life even better.
But this post isn't about prenatal testing (or the ongoing political debate regarding new, earlier tests).
And really, it's not even about abortion — though, you can't help but pause at those statistics.
It's more about perspective.
My OBGYN asked me the other day if he could give his patients my contact information if they received a positive prenatal diagnosis. He was aware that many of his patients needed more than a well-meaning, "Most families find this to be a great blessing," — in fact, a favorite patient of his had just recently terminated her pregnancy based on the diagnosis. I said, "Of course." (Of course.)
But then I started thinking about what I would say to someone in that position. Someone who may have a very different world view than me, a different life experience, a different support system. Someone who wasn't ready to hear all the details and meet all the high-functioning, charming and successful adults with Down syndrome (I know I wasn't in those first few days).
And then, aha, I thought.
I wouldn't want to say much at all.
I would just want them to meet her.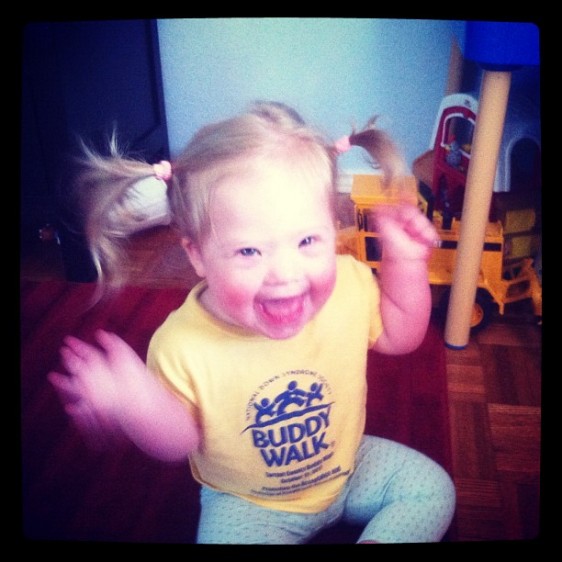 Because that's where the magic lies.
After all, the facts will always be there when you need them. The happiness quotient for the whole family. The limitless possibilities for what you will no longer see as a disability. The community. The gift of perspective. The secret to life. I can tell you all those things — doctors can tell you some of those things.
But what a prenatal diagnosis cannot tell you is what it will feel like to look into those eyes and know: you're one of the lucky ones.
***
Updated: A year after this post was written, I did put together some words on what I would want to share with a mother who has received a prenatal Down syndrome diagnosis: Dear mom with a prenatal Down syndrome diagnosis