My cousin, Ryan, is a senior in high school this year. He's such an awesome kid. (Well, young man.)
I remember when he was in diapers.
As an only child, my cousins — Ryan and his equally amazing brother and sister — were the only "babies" in my life for a long time. And then one day, I was almost as old as Jerry Maguire, and my "baby cousins" — well, they went and grew up.
There Ryan is in the middle with his proud mama and daddy.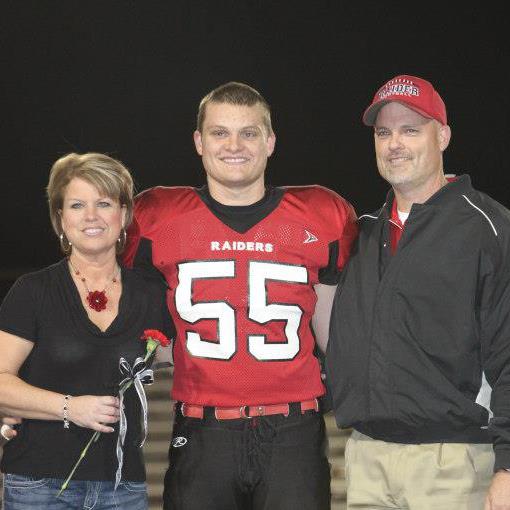 I saw this picture on Facebook yesterday — not long before it was time for me to put my little man to bed.
My 3 1/2 year old has been particularly high maintenance at bedtime lately. He wants stories and songs and "lay down with me" and just "one more minute" — and while trying to choreograph the tired mama dance with three babies at bedtime, I'm often lacking in the energy department when it comes to his pleading requests.
But baby girl was happy in my room. Sweet Kate was (finally) asleep. Hubby was working on a house project. And I had a little extra patience for my bedtime-averse boy.
The lights were off and we laid in his bed with Twilight Turtle — a glowing little animal that turns children's bedrooms into virtual observatories. Magical, glowing stars and a crescent moon covered his ceiling and I heard his breath rise and fall as we camped under the constellations. His warm PJ'd body was snuggled up against mine and as he fell asleep, I thought about the picture my Aunt Amy had posted.
Four minutes ago, I rocked my cousin Ryan to sleep in the rocking chairs in my Grandma's old sun room. Two minutes ago, he was a goofy preteen, joking around with his silly brother and sister. And today — that little boy is a man.
Tomorrow — my little boy will be one, too.
Tomorrow, he won't ask me to come snuggle with Twilight Turtle. He won't plea with me to stay just a little longer. He won't surprise me with a "Mama, I love you," under his sleepy breath. Because he will be a healthy, independent man — and I will have helped him become that.
I'm happy for a matter of perspective. A bittersweet reminder that the days are long but the years are short — and that sometimes, it's me that needs just one more minute.