When I was in 9th grade, my family visited Rome. We lived in Germany at the time — and traveled to the beautiful Italian city for a winter vacation.
I don't remember too much about this trip. I remember eating dinner late (as the Romans do) and waking up to breakfasts of flaky, chocolate croissants and assorted, soft cheeses. I remember standing in the Sistene Chapel and thinking of what an awkward angle that must've been for Michelangelo to paint from. I remember petting a shop kitty that resided at one of the local stores. And I remember wishing.
I tossed pennies over my shoulder into the Trevi Fountain — a destination known for its legendary wish-granting powers. As an awkward teenager, I'm sure I wished for love and great romance as the Italian couples canoodled around me in the moonlit night. It was a wish that was more of a prayer as so many of my wishes have been over the years. Whether aimed at twinkling stars or birthday candles or pennies sinking to the bottom of fountains, the inner-most desires of my heart have been thrown to a higher power, hoping for a response.
And as I look at my husband now, I know that my wish at the Trevi Fountain came true.
I was reminded of this idea of "wishing" again the other day while visiting the whimsical office of the Make-A-Wish Foundation of North Texas.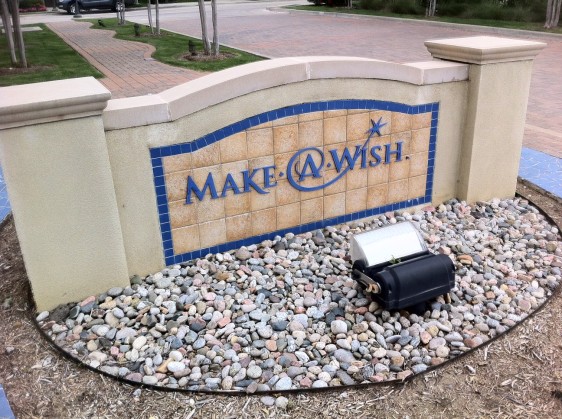 I am helping with a special project for their 30th anniversary and while getting a tour of their facility, I also learned more about their foundation in general. A foundation that, at its core, is about granting the wishes of children.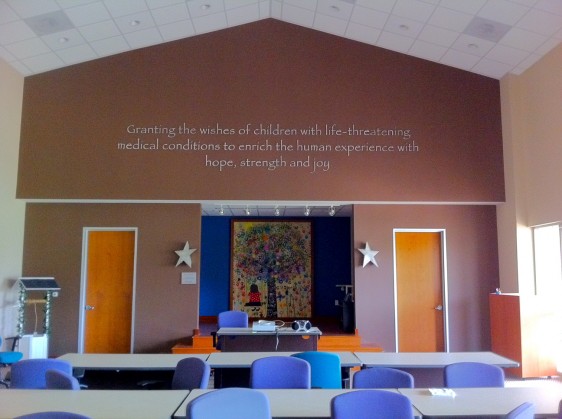 See that tree painting in the middle? That was the actual wall from the chapter's old office, transported as a meaningful reminder of where they've come from.
I was moved as soon as I walked into their facility. The hallways are filled with pictures of smiling children who have been given unbelievable hope at a time when life can seem discouraging.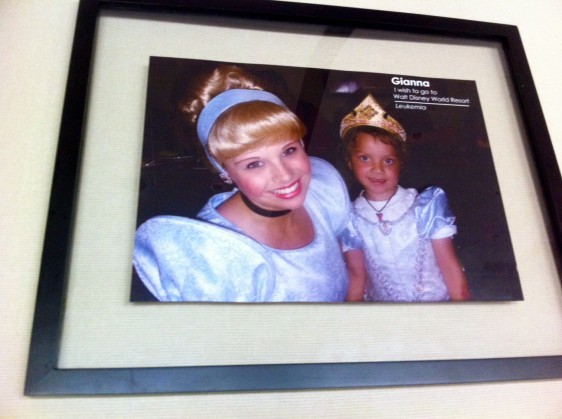 The number one "wish"? To go to Disney World!
But perhaps my favorite part about visiting The Wishing Place (what they call their chapter office) is the Wishing Tower. I immediately jumped into my 8-year-old self as I stood on this star.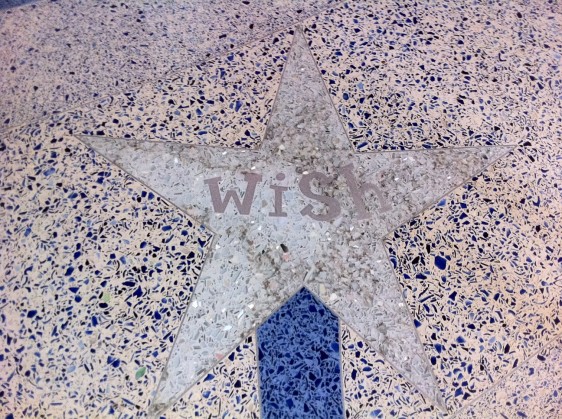 Elissa, the Development Officer, asked me what color I wanted. "What color?" I asked, curiously. Then I looked up at the doors I was facing.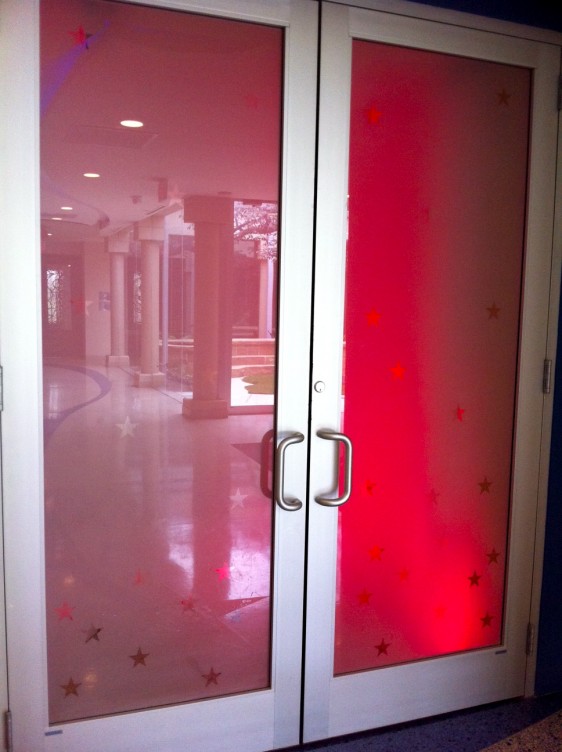 She opened the doors and I entered a new, magical world. A world full of colors and possibility – and where I knew the footsteps of so many hopeful children had walked before.
I walked through the winding pathway as the colors turned green…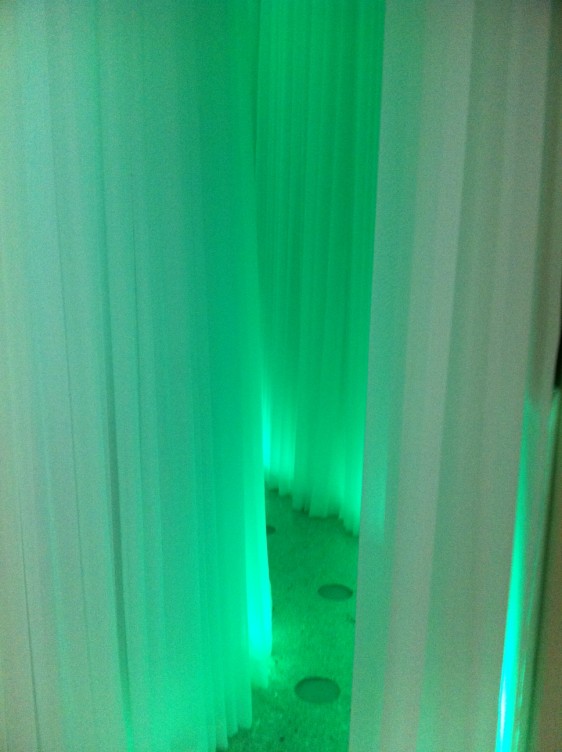 Then pink as I entered the "tower" itself.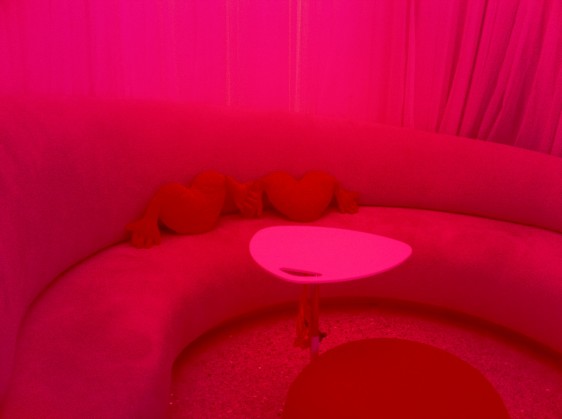 I sat on the comfy couches and looked into the wishing mirror, which showed me a delightful video, encouraging its viewers to dream big. As the video says, it's about more than just wishing for ice cream. This is a BIG wish — something that you really, really want.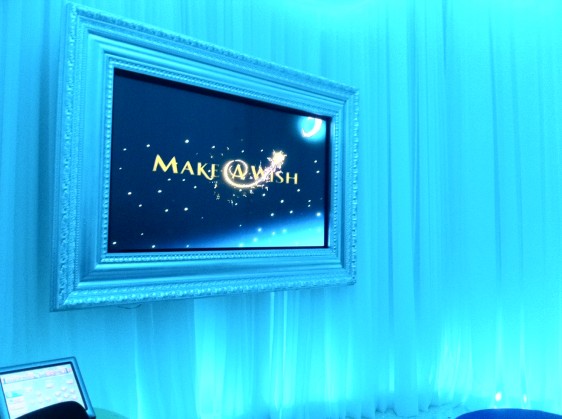 As I learned on my tour, most wish requests fall into four major categories: I wish to go (traveling to a place like Disney World or going skiing), I wish to be (maybe a fireman, a police officer or a model), I wish to meet (the president? an athlete? Justin Bieber?) and I wish to have (a special gift like a computer, tree house or shopping spree).
My eyes teared up as I sat in this fanciful tower. Not just because precious children would get an opportunity to do unbelievably cool things — but because, through the eyes of a mother, I knew how much it would mean to their whole family. As parents, we are the Tooth Fairies and the Santa Clauses, the Easter Bunnies and the puppetteers.
We are the ultimate wish-granters, the people who long to infuse our children's lives with magic for as long as possible — to help them always believe in the seemingly impossible. And for families challenged with a life-threatening medical condition, Make-A-Wish is a wonderful partner of hope.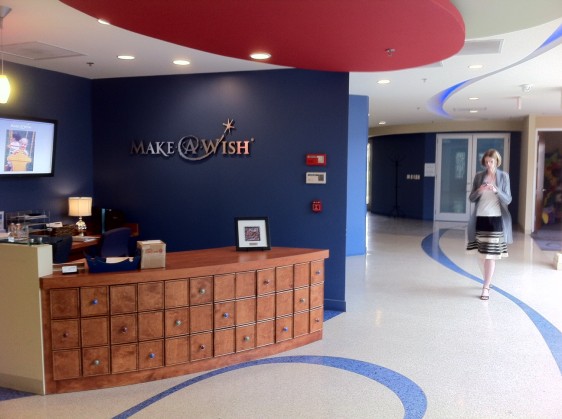 See that desk right there? Behind all of those knobs are little doors with a hidden toy. My toddler would love this place!
Here are a few more things that all kids would love: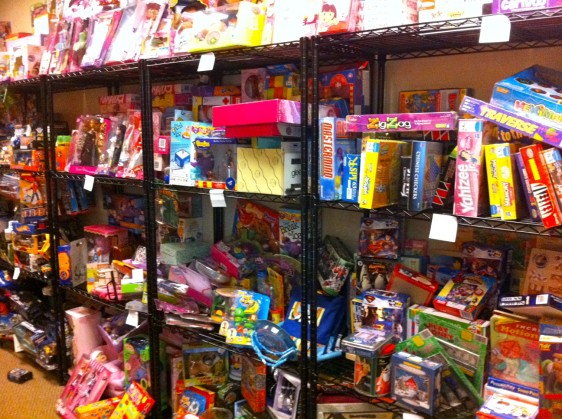 The toy closet (full of donated toys when Wish kids come to visit).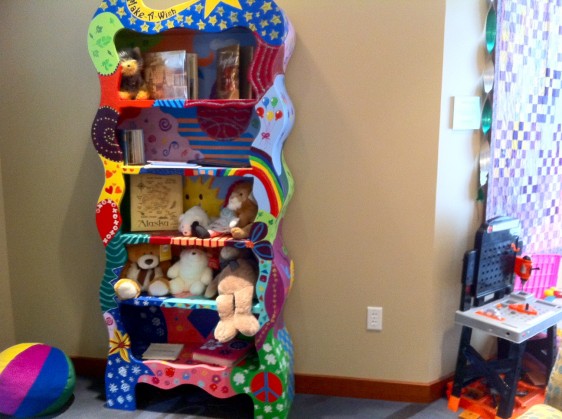 The meeting room (or should I say, play room!)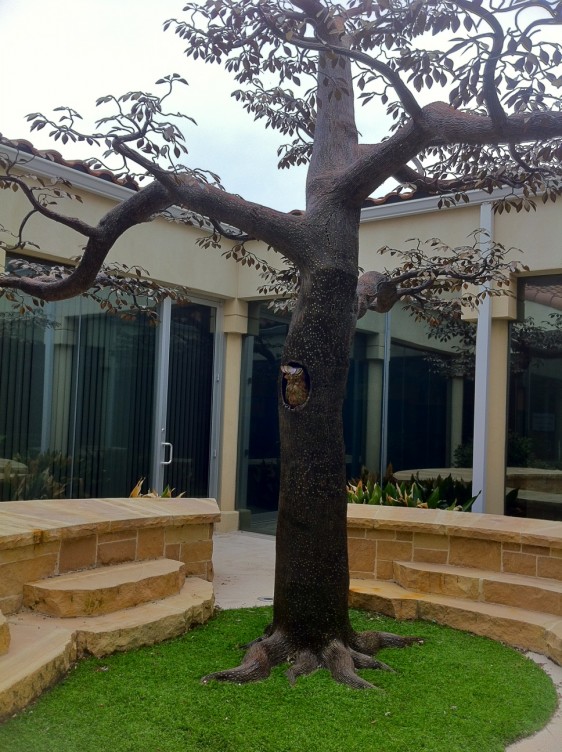 The courtyard, which features a breathtaking and highly meaningful tree sculpture. Each leaf represents a special wish.
I wasn't a bright-eyed teenager standing in front of the Trevi Fountain when I visited The Wishing Place last week. But I felt as though I had entered a land even more legendary. This is a place where wishes truly do come true. And not just from tossing pennies into a tourist attraction, but in the work of the amazing people dedicated to a common mission: enriching the human experience with hope, strength and joy.
To learn more, visit the Make a Wish North Texas website or the national website.
Be the change you wish to see in the world. – Gandhi