Most of my friends are total shoe-fanatics, drooling over the latest pair of Manolo Blahniks, piling their closets with heels in every color, ooo-ing and ahh-ing over their friend's foot ensembles. But not me.
I would rather be barefoot. Or wearing flip flops.
I did go through a high heel stage — mostly in college and my first year of work — where I felt prettier, taller, thinner, and more put-together in a fabulous, statuesque pair of pumps. But I soon traded style for comfort and now opt for my favorite black flats on the way out the door.
And it's not like I wear Granny McGrans shoes — I still like a bit of style in a fun flip-flop or a sassy sandal. I just don't get all Carrie Bradshaw "Helllooo Lover" when I see some hotty-bo-body heels in a storefront window.
So I read this poll in the UK Daily Mail that says:
A poll of 1,500 women revealed that the average wardrobe boasts a collection of 44 shoes, including eight pairs of boots, nine pairs of trainers and 12 pairs of flips flops or ballerina shoes. Kitten and stiletto heels then account for another 15 pairs.
Really? 44 pairs of shoes? I have, like, 4 pairs. Black heels, sandals, running shoes, boots. Oh, and cowboy boots… so, 5. But 44?
It also quoted these statistics:
+Almost two thirds of women own an average of 10 pairs of shoes they have never actually worn or have only put on once or twice.

+And three pairs of shoes are uncomfortable to walk in.

+More than 26 percent of women admit they often wear the [uncomfortable] shoes though, despite it being painful when they walk, to stop their partner moaning that they were a waste of money.

+Another 25 percent of people also lie to their partners, with almost half telling their other half that the shoes were cheaper than they really were.

+A cheeky 30 percent even deny buying them, pretending they have been in the bottom of their wardrobe for months.
But I doubt you, dear female reader, need to hear those statistics — since you're probably amongst the "average" female with the ubiquitous shoe fetish.
Me, on the other hand, am barefoot as we speak. With slightly-worn flip flops under my desk.
I need to point this out to my husband next time he ever-so-politely mentions I repeatedly leave the bathroom towel in the sink rather than hanging it up:
Me: "Well, at least I don't own 44 pairs of shoes!"
Him: "But how many times did you go to Starbucks this week?"
Me: "…."
OK, so I guess we all have our thing.
—
However, I've gotta admit, these are precious: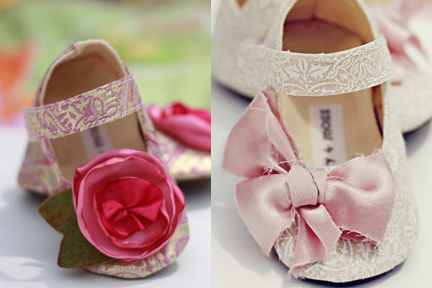 Baby feet are a whole different ballgame.