A couple of months ago, we learned that Kate needed glasses.
My first thought (after learning all about her prescription, of course) was: She'll be adorable in glasses!
My second thought was: Wait — how in the world will we get her to keep them on? (She's not a fan of anything she deems an extraneous accessory: i.e., hats, shoes, sunglasses.)
I immediately called a dear friend of mine whose daughter also has Down syndrome and wears glasses (she was born the same week as Kate) and was comforted to hear that her daughter had no real issues keeping hers on — she was just so happy to finally be able to see the beautiful details of life: the individual blades of grass and the fibers of the carpet. "It brought me to tears," my friend said, recounting the story. Her words encouraged me — and that same evening, I went on a mission to find the most comfortable, practical, (and adorable!) glasses for Kate.
The first glasses I researched were the most common I see on young children — and the only kind of children's glasses many of the stores I contacted carry: Miraflex.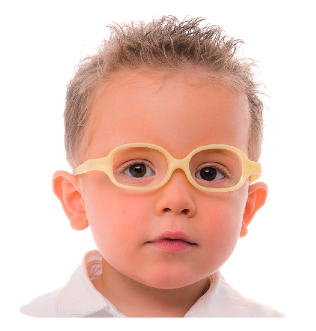 Miraflex glasses are common for a reason: they are incredibly endurable as they are basically manufactured as one single piece of a malleable material — with no metal components. And they come in a lot of fun colors and shapes! But when Kate tried them on at the store, they fit her a bit too close for comfort. With no nose piece, her eyelashes would brush against the lenses — and for a girl who doesn't like accessories that feel "overbearing," I thought these might be too much for her.
However, Miraflex are a wonderful option for younger children and infants (seemingly indestructible!) — and I know many families who love them, though they didn't fit Kate's face well.
Next, I looked at Specs 4 Us — a line of eye glasses created by an optician and mother of a child with Down syndrome who was frustrated with trying to find frames that fit her daughter. As their catalog says, the frames are "specially formatted to fit individuals with Down syndrome and other people with low bridges."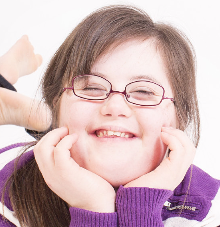 I love creator, Maria Dellapina's, mission (and passion to help her daughter and others have frames that fit well and look great!) — but I was concerned about the durability of all-metal frames for my rambunctious 4-year-old. I will definitely keep these glasses in mind for the future, though! And seriously — moms are so awesome.
Finally, I stumbled upon a wonderfully informative blog post by Bri, a mother of a son with Down syndrome, who has had quite the journey with several different types of glasses (including the two I mentioned above). Her post is where I first learned about Tomato Glasses.
Made in Korea, Tomato Glasses have the durability of Miraflex (they are made for children of all ages), but they also have a nose piece attached, so they're not such a close fit. Plus, in all sorts of colors and designs, they're super cute.
Only 14 stores in all of the United States carry Tomato Glasses, but Bri had no problem ordering her son's pair directly from the website. She says: "As for ordering the glasses, we simply emailed the company.  They were prompt in replying and very friendly. To this day we still email them if we need a replacement nose piece and usually a few days later we have a box at our door with our order!" (Here's a link to their catalog. You can contact them here.)
My plan was to order Kate's glasses from the website as well — but instead, I called the store closest to us in Texas (though still not within quick driving distance) that carries them: Dallas Youth Optical.
Can I just say: I have not had a better customer service experience in years. Billy (the owner) and his team were AWESOME! Not only did they have the color and size of Tomato Glasses that I needed for Kate, but they went above and beyond to make sure I was happy with my experience and mailed the glasses straight to my doorstep. If you are in the Dallas area, I highly recommend them — they carry Miraflex, Specs 4 Us, Tomato Glasses (though they have a limited inventory of Tomato Glasses right now) and many others — and they are experts in serving children of all abilities and their families.
Tomato Glasses come with an adjustable strap, extra ear pieces and nose pieces and a hard case: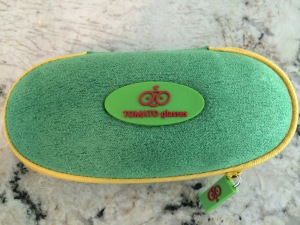 \
Kate was able to try on her new glasses (with new lenses) for the first time this weekend. Her response when she put them on? She said one word:
"Wow!"
She definitely seems to like them, though she's naturally adjusting to the new "view," so we're all easing in. But overall, we are very happy with the glasses, and story time is even sweeter.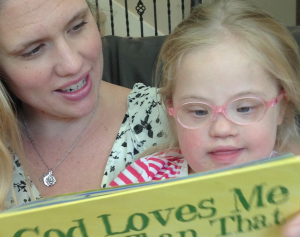 Do you have a brand of glasses that you love for your child?
Since my little glasses-finding-adventure, I have had multiple opticians, optometrists and even our wonderful ophthalmologist ask for tips on what sorts of glasses they should recommend to their families of young children — especially young children with Down syndrome.
I am so thankful for the people and products we have available today to help us all see more clearly.