Four years ago, it was all about Down syndrome.
That rainy November afternoon when Kate was born — when the neonatologist shuffled in quickly and told us as cold as the rain that "there's no good way to say this — so I'll just say it: your daughter has Down syndrome."
On that day, it was all about Down syndrome. The surprise stung deep — I couldn't see her without thinking about it. I couldn't see anyone without having to talk about it. She was born three weeks early and laid snug, swaddled in a blanket in the NICU because she was small and not holding the right temperature. We had to drive home from the hospital without our new baby — I sat in the passenger seat, staring out the window at everyone else going on about their usual day.
Every day for the next three weeks, I drove up and down Cooper Street, across the railroad tracks and past the university, from our house to the hospital. I breastfed her through wires in a hard hospital chair with an Occupational Therapist checking in on our feedings and a NICU nurse telling me about other mothers she knew who had children with Down syndrome. I cradled Kate's fuzzy head, rubbed my finger along the outline of her face, and longed to just take her home.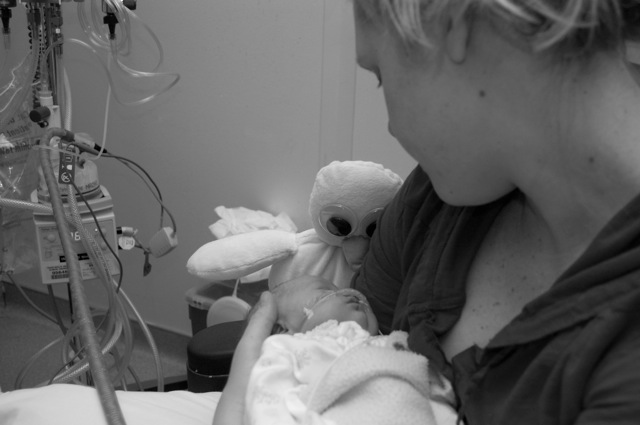 My delivery doctor came to visit me one afternoon in the NICU while I sat holding her. He squatted down and said, "I've been looking for you. I wanted to check on you and see how you're doing. Many families I know who have children with Down syndrome feel that it's a great blessing in their lives." I nodded and agreed with all of my heart. But I still cried because it was all so new. Because in those first days, it felt like life was all about Down syndrome — what it had given us, what it had taken away, what it meant.
Kate's 4th birthday is next week.
I'm thinking of making cake batter and pouring it into a waffle maker for a fun birthday cake. Waffles are her all-time favorite food. We'll dance on her birthday, too, I'm sure, because dancing is one of her favorite past times. She's got rhythm and moves and a twirl that would knock your socks off. She'll be surrounded by her big brother who she'll probably chase around the house pretending she's a dinosaur. She'll make those crazy "I'm gonna get you" eyes and growl in that way that makes her little sister giggle. She'll sing Happy Birthday the loudest with her hands in the air and she'll smile that contagious smile that takes over her whole face — and everyone else's.
The day of her birth may have been focused on a Down syndrome diagnosis — but her fourth birthday will be all about her. Who she is, what she loves, the people who love her.
When Kate was first born, it was hard for me to see the little girl she is now because all I could see was a diagnosis I didn't fully understand. But as time has passed, I have grown to understand more than a diagnosis, I have come to understand her. And because of her, I have come to understand so much more.
Because even though I write about Down syndrome a lot on this blog — advocating for acceptance, inclusion and compassion — my writing is really not about Down syndrome specifically either. It's about people — accepting each other for our differences, recognizing that every person has a unique path, purpose and story. It's about taking the time to learn more about people we may not understand or are maybe even a bit afraid of. It's about not underestimating each other. It's about recognizing the incredible beauty and worth of all human beings.
Down syndrome will always be a part of our lives, of course, but it's just that: a part. It's a flower in our garden. A sentence in our love story. It's just part of the unique girl who we'll celebrate next week with her favorite things that make her her: laughing, dancing, and so much love.