Last year I wrote an article for Parents.com called 10 Reasons to Love the Terrible Twos.
I began the story:
At a recent dinner party, moms shared stories of their little cherubs suddenly turning into terrible, hard-headed toddlers. Snuggles and smiles had been traded for tantrums and time-outs. Baths had become battles and dinnertime a danger zone. They swapped war stories ("Well, if you think that's bad…") and said they couldn't wait for this stage to pass. I nodded and agreed, but I couldn't help feeling a tug at my heartstrings. As much as the terrible twos come with their own set of challenges, they're also a time of great milestones and imagination. Even in the hard moments, I am completely smitten with my blossoming little creature and his strong spirit. Even in his despondent "no's," he is finding a voice all his own. So I celebrate the reasons to love this pivotal age, knowing that one day I will look back and wish it hadn't passed so quickly.
And now that my terrific two-year-old has turned into a thriving (and very opinionated) three-year-old, I still echo these sentiments. On a recent parenting book perusal, I saw a similar philosophy in the book, The Happiest Toddler on the Block by Dr. Harvey Karp.
From the book: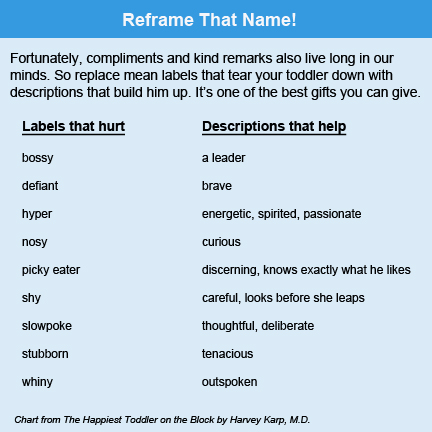 I liked that because I truly believe that the way we think about our babies (big and small) will strongly influence the way they think about themselves.
And sure, maybe I don't always smile as my three-year-old blatantly disobeys me and think, "What a courageous wee lad!" But I do know that I am thankful for his spirit — and that my job is to help him use his leadership qualities, his courage, his curiosity and his strong will for the good of the world.
Because right now, he's exactly who he's meant to be.
"A child is fed with milk and praise." — Charles and Mary Lamb, Poetry for Children, 1809