My parents have only a handful of pictures of themselves as very young children — and maybe enough to fill a big album from their growing up years.
I treasure these pictures. I study their expressions and the people in the background. Because there aren't very many photos (by today's standards), I delight when I discover a new one — with a hairstyle or a toy or an old friend that I get to learn about. Sometimes one picture captures an entire year — or, in my grandparents or great grandparents case, an entire decade of one's life.
I sometimes wish I could see more pictures of past generations. I would especially love to see videos of, for instance, my parents' first birthday or a first day of school. But at the same time, the photos we do have are so treasured — and family stories fill in the details of things that weren't visually documented.
Fast forward a few decades to when I gave birth to my first-born (and had also acquired my first DSLR camera).
I have — literally — hundreds (thousands? Oh man, I need to organize those old hard drives) of pictures of my new baby doing, well, everything a baby does. Oh, look, he's napping! He's drooling! He's dreaming! Click, click, click.
I wanted to capture every moment (and in the best lighting possible). But soon, I realized, what would I do with all of these pictures (many quite redundant)? As time passed and I had more children, my computer hard drive started filling up fast. And in trying to clear space, I realized that perhaps I didn't need 43 photos of my baby's wrinkly left foot (though look at those teensy-weensy little toes). Plus, I started to wonder, how would I even organize this stuff in a way that I could (and ever would) go back and look at it again?
There was a time, too, with my camera always in hand, that I sort of felt like I was missing out on an event while I was busy documenting it. It became relieving to me when I could just let some things live as memories. Or, when I gave up on the idea of having to take the "perfect photo," and just let a few quick snapshots suffice. In fact, some of my favorite photos of my parents' growing up were the ones where everyone is making a funny expression and you know there was more going on behind the scenes.
Now that I'm on my 5th child, I have had to prioritize how and when and what I document. In a world where it's so easy to snap and share everything, I know many of us have worked to find balance. For our family, we don't have personal social media accounts or a "family" blog, but my husband and I do have a little private blog where just him and I save pictures and quotes of the everyday silly and endearing things our kids do and say. We have an app on each of our phones that connect to it, and we can easily dump our favorite phone photos to the private shared space. Then once a year, I print a book of those "Little Happies" to put on our shelf.
This is the first year that I've printed the family year books and I used a company called Into Real Pages.
I first discovered them because they support the blogging platform that we use to save our photos (and many others), but I chose them because their books were simple and pretty — and their site was super intuitive to use. With just a few clicks, their website tool easily imported my posts by date and organized them into a book format that I could quickly approve and print.
And now… our memories have turned into real pages for us to always enjoy: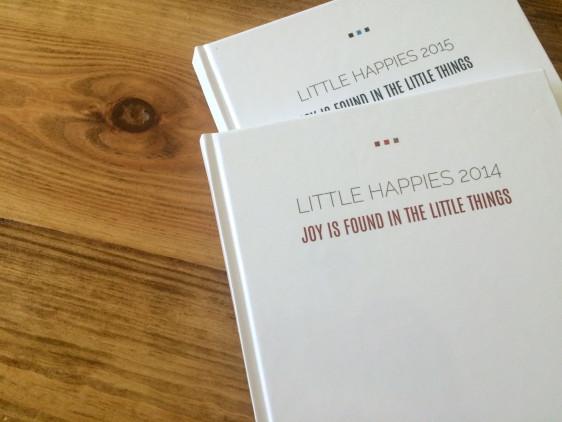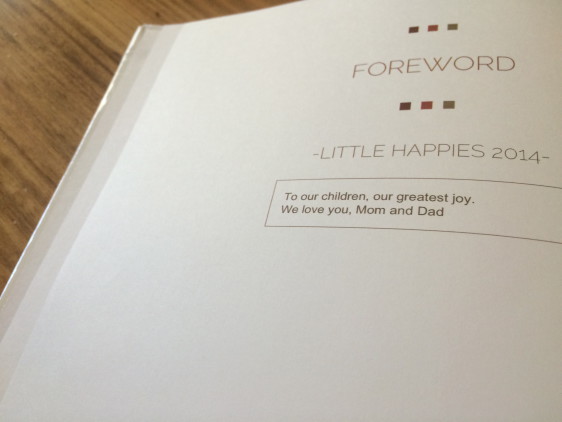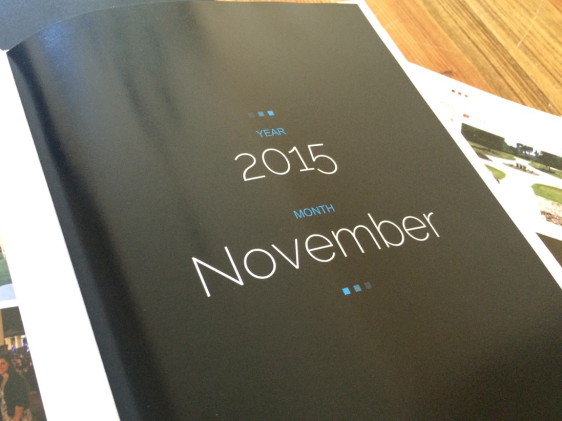 *Into Real Pages graciously gifted these books to us when I offered to share our great experience