So I've been working on a side project that will finally be birthed next week. And like one of those birth stories on TLC, I'm inviting you all to join me! Except you'll be in the comfort of your own home and not with a crowd of people around a birthing tub.
Hope that's not disappointing.
The project is called 3ThingsforMom.com. It doesn't launch til' next Monday, but because it's just us, I wanted to give you a sneak peek.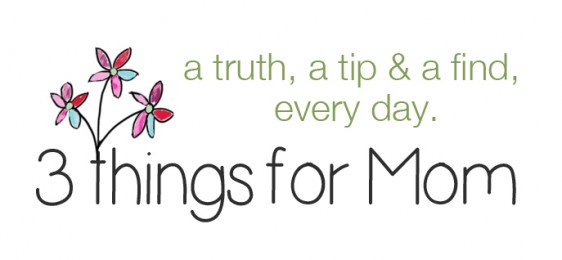 Here's an excerpt from the "About" page to give you an idea of the new project:
I'm a big blog lover and I never feel like I have enough time to read all the blogs I want (do you feel the same?) Then one day, I had an "aha moment." What if — I thought — there were a quick-read resource where every day a different wonderful blogger could share just 3 things: a Truth (a nugget of mama wisdom), a Tip (something shared in the sisterhood that makes life easier) and a Find (a product you tell all your friends about).

And thus, 3ThingsforMom.com was born.

My vision for 3ThingsforMom.com is for it to be a daily dose of inspiration — where every morning, you'll be able to take in your daily 3 Things over a cup of Joe. Discover new mom writers. Cool tips. Neat products. Fresh perspectives. Every week day.

Imagine the good things that can come from just 3 things.
Even more exciting is our cast of bloggers for launch week, such as:
Beth Berry from Revolution at Home. Beth's an amazing writer with a great story (currently living with her four daughters and husband in small town Mexico) — and you have very possibly heard of her popular post, "Let's All Compare Our Perfect Lives, Then Try To Enjoy Our Day."
Elke Govertsen — Founder and editor-and-chief of Mamalode magazine, named "America's best parenting magazine" by Lisa Stone, CEO of BlogHer. Elke has been featured in Real Simple, Where Women Create, 406 Woman, Ad Tech, and entrepreneur.com.
The ever-so-funny, Amber Dusick, from her wildly popular blog, Crappy Pictures. She also blogs for the Huffington Post and has received tons of accolades. She is one of the few bloggers whose writing actually makes me laugh out loud — like, the kind where other people look at me and say, "You OK?" Here's one of my favorites.
And that's just the first week.
So you can see why I'm excited for this baby to be born!
And because you're the first I'm telling about it — please "like" it, if you do, well, like it. If you don't like it, then that's fine too. Free country.
Visit 3ThingsforMom.com on Facebook.
Or tweet with us on Twitter.
Or, when the site is up next week, you can subscribe to receive your daily 3 Things sent straight to your email inbox — just around the same time your coffee maker goes "Beeeep."