I'm having fun checking out everyone's favorite Etsy shops for the Etsy Besties 2012!
Don't you like the 2012 on there? It sounds so official. "I'd like to thank the Academy."
I have already found some new favorites that I will be frequenting. [To nominate an Etsy shop you love, simply comment here.)
Here's a couple that I'd like to highlight.
The first is a shop called "Mama May i," nominated by Becca who said, "I love Mama May I. She does great wooden toys that excite kids' imaginations but I love her for her taggie blankets! She has such fun fabrics and really good quality."
I think these are really fun gifts — and especially because these toys were developed by proven education methods to inspire learning.
And Jessica, owner of Mama May I, is giving us a special 15% discount on anything from her store with the coupon code: SIPPINGLEMONADE
Yay! Happy shopping! (Let me know what you buy.)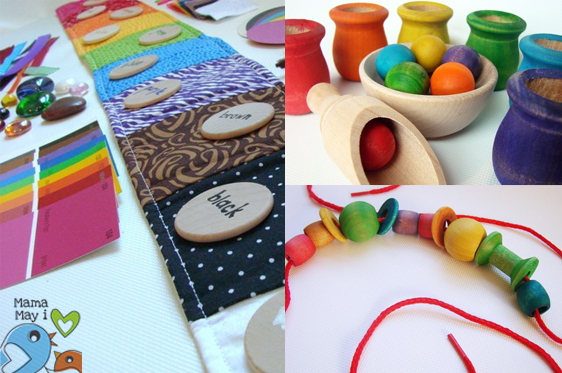 The second shop I want to highlight is the store of artist, Elly MacKay, nominated by Jill Umbach.
Jill says: "I love the artwork of Elly MacKay and have purchased a wonderful photo of a little girl on a tiger crossing a bridge for my daughter's room. Her work is whimsical and full of imagination!"
I clicked over to Elly's Etsy page — and then to her website — and then to her blog — and all I can say is: Wow. Oh, and she also just happens to be featured in O Magazine this month.
Here's an excerpt from the O article on Elly's process:
MacKay begins each diorama by layering parchment paper, dollhouse wallpaper, Yupo paper (a synthetic, semitranslucent material), or Mylar against the backdrop of the box; she might use several sheets for an opaque nightscape, but only a few for  a glowing daylight scene. Then MacKay sketches images—a cherub, a sailboat, an endless sea—with a vintage calligraphy pen, colors them with ink, cuts them out, and carefully hooks these shapes into the diorama using wires and adhesives. Once the stage is set, "I usually take about 50 pictures," she says, "each only subtly different, and then choose the one I like best."
I love all of her work — it's magical.
This one reminds me of my little boy.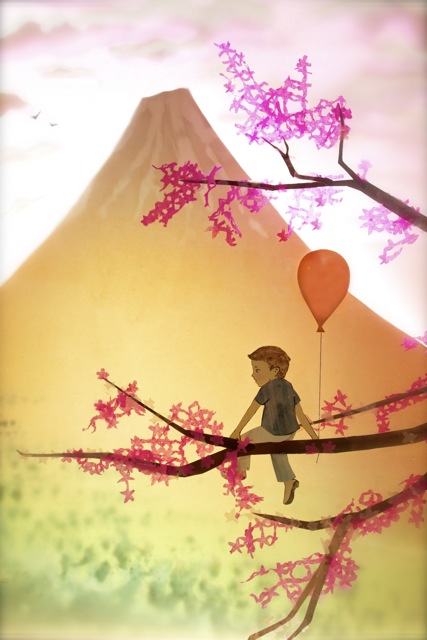 "An Unexpected Journey."
Also — If you purchase one of these beautiful prints (Christmas is around the corner!), Elly is giving away a FREE greeting card with the print that Jill mentioned above (the girl on a tiger). Just mention "Sipping Lemonade" in the "notes to seller."
I love celebrating creativity — which is why I'm having so much fun learning about these new artists. If you've enjoyed the work of a creator on Etsy, make sure to share!