Yesterday was Independence Day. A powerful holiday to remember one of the most important days in American history.
"You have to love a nation that celebrates its independence every July 4, not with a parade of guns, tanks, and soldiers who file by the White House in a show of strength and muscle. But with family picnics where kids throw Frisbees, the potato salad gets iffy, and the flies die from happiness.  You may think you have overeaten, but it's patriotism." – Erma Bombeck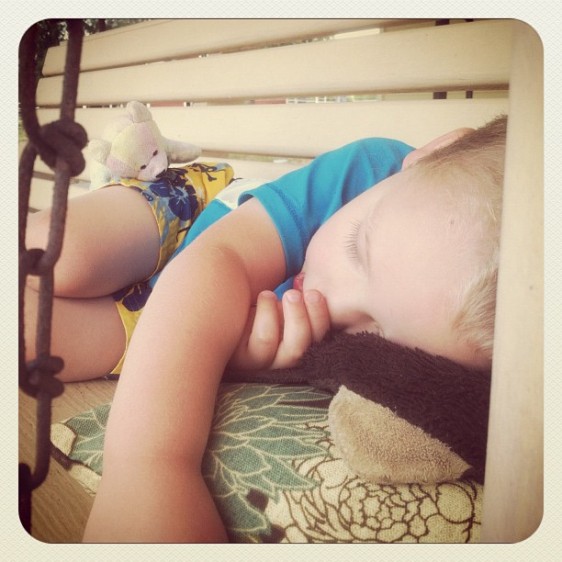 My first-born on the Fourth.
Freedom is one of those things that we all can take for granted — and that quickly, we can lose. I won't go into some commentary on the current state of the world or politics (as I'd quickly be in over my head), but I can talk about it from the basic human truth: we are born with the God-given desire to be free.
I know this because I have a 3-year-old.
He reminds me of this every day.
("I can do it myself!" "My toy!" "Nooo!")
And as part of my continuing education as CEO of Mommyville, I'm reading the book Parenting with Love and Logic.
Have you read it? It's all about independence. Relinquishing control. Helping our kids grow strong and smart and happy when we're tempted to be an overbearing, tea-sipping Britain and they're a young, eager, freedom-chasing America.
I've only read about a third of the book, but so far, I like it. It's full of common sense ways to handle different parenting situations (from toddlerhood to teenageland), but what I do find particularly interesting about it is the way they handle the "control issue."
From the book:
Waging a Winnable War with Choices

There are some areas of our children's lives that remain beyond our control and are best avoided. If we exert our will over children in these areas, we are destined to fail.

Any parent who has pleaded, cajoled, bribed, threatened, contorted his face grotesquely, or done headstands trying to make a little tyke talk for relatives already knows about these sorts of control battles. Vince isn't going to talk unless he wants to. The same goes for the battle of the pureed vegetables. We can force-feed them down Lily's little gullet all we want, but if she doesn't want to eat them, back out they come. And we lose.

Ditto at the other end of the gastrointestinal tract. We may demand that our children do their dirty work on the potty chair, but before we know it, they're over in the corner of the family room with faces sporting an ominous flushed look.
It goes on to say:
Winnable war is waged through choices, not demands. Choices change the entire complexion of the control struggle. They allow us to give away the control we don't need and gain the control we do. With choices, kids have no demands to react against, and the control we need is established.
The book is mostly about this issue. How to give choices, examples on when to give choices — how to phrase choices — and how, in the end, our goal should be to teach our children that they are capable of making the best choices that will make them happy, successful adults.
And whether or not you're a Love and Logicker or a Happiest Toddler on the Blocky or an I-don't-read-parenting-bookster, isn't that what we all want for our children? Independence and freedom in its truest sense:
Being free to live a life of purpose and passion — where you can be exactly who you were made to be.
"Freedom consists not in doing what we like, but in having the right to do what we ought." – Blessed Pope John Paul II