Cardinal Timothy Dolan has been asked a lot of questions in his time — so you can imagine my excitement when he agreed to participate in my quirky little interview series (with nothing less than what I expected: profound, humorous answers).
Haven't heard of Cardinal Dolan? You may be one of the few.
He was named Archbishop of the Archdiocese of New York  in 2009 — and has gained popularity with his no-nonsense straight talk and hearty belly-laugh. I first heard Cardinal Dolan speak in depth in an engaging 60 Minutes interview last year.
Morley Safer introduced the segment by noting challenges within the Catholic Church — then saying,
"The one man the American Church hopes can change all that is Timothy Dolan — the Archbishop of New York, the nation's most prominent pulpit. He's also been called the American Pope, after his election to head the US Conference of Catholic Bishops. His mission, as he sees it, is to change a perception of the Church that ranges from negative… to irrelevant. He wants to see the old Church made new — zero tolerance of wayward priests and an emphasis on what he calls "the most pure and noble experience Catholicism offers." To accomplish his mission, his main weapon seems to be that indefinable quality… called charm."
And charm is right.
Cardinal Dolan is known for his jovial demeanor and perfectly-timed wit. An article in New York Magazine called him "The Archbishop of Charm." (It also cites his soft spot for martinis.) Time Magazine named him one of the 100 Most Influential People in the World in 2012. And CBN News named him "The 'Rock Star' of the Catholic faith."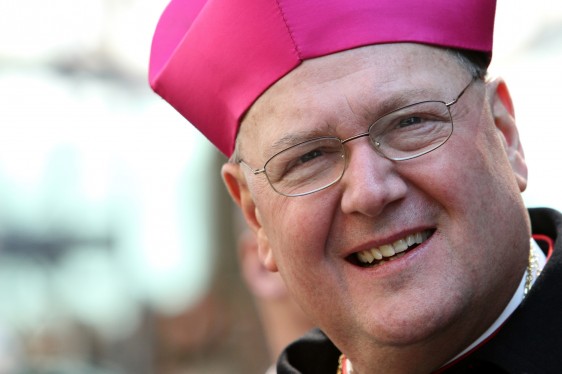 But lately, this charismatic Cardinal has been in the news for more serious issues; namely, the HHS Mandate , to which he consistently holds the position, "We have to be very vigorous in insisting that this is not about contraception. It's about religious freedom."
Last week, he helped kick off the Fortnight for Freedom, a national, two-week campaign opposing the HHS Mandate — and other government policies threatening religious freedom. And this week, he was kind enough to participate in something (a little) less important: my 3 Questions Series.
Me: What is something that makes you giddy like a kid?
CD: For as long as I can remember, I wanted to be a priest.  My family still talks about how, when I was just a young boy, I went with my grandmother to Church, and I pointed to the priest on the altar and said "I want to be like him when I grow up." I never lost that spark and, deep down, it's all I ever wanted to do with my life.  So, just being a priest, and doing the things that a priest does – saying Mass, hearing confessions, celebrating weddings, being with the ill, consoling the mourning – brings me great joy!  I hope some of that joy comes through in everything I do.  I'm still a big kid who just wants to be a good priest.
Me: What is something that makes you passionate like a grown-up?
CD: I was tempted, at first, to name one of the many projects that the Archdiocese has underway that I feel very passionate about – like the restoration of Saint Patrick's Cathedral, or the strategic plan for our  excellent Catholic schools.  But, really, I am most passionate about my love for Jesus Christ.  He's not only my Lord and Savior, but He's also my best friend, and He makes everything I do possible.  It's so easy to get caught up in the "doing" of things that we forget the real reason why we're here.  To quote the old Baltimore catechism, we're here to know God, to love Him, and to serve Him in this life so that we can be happy with Him forever in heaven.  If that's not something to feel passionate about, I don't know what is!
Me: What were you looking forward to most when you woke up this morning?
CD: Mornings are probably my favorite time of day.  I get up pretty early, and I always look forward to spending some quiet time in prayer, which really sets the foundation for my day.  Next I do some exercise – treadmill, stationary biking – and then after a quick shower I say the 7:00 a.m. Mass in Saint Patrick's.  (Then I enjoy a big breakfast to cancel out the exercise!)  I find it a great way to start my day, and it's what I most look forward to each morning.
***
Follow Cardinal Dolan on Twitter at @CardinalDolan.
"To be a Catholic should be something liberating. Something fun. We aren't Puritans, are we? Joy is what attracts people to the Church." – Cardinal Dolan on his Twitter feed

*3 Questions is a fun interview series where I ask the same 3 questions to different interesting people. See more interviews here.