My Aunt Gerry once told me, while smearing her toasted bagel with cream cheese, "I liked bagels before they were trendy."
It made me laugh.
And when it comes to food trends, few have been more ubiquitous than the ever-so-tasty "cupcake bakery." Matt and I had cupcakes instead of cake at our wedding back in 2007 — and the little cup-sized treats are still as popular as ever.
But there is one woman in particular who takes the cake on starting the trend — and that's Candace Nelson, founder of Beverly Hills-based cupcake bakery: Sprinkles Cupcakes.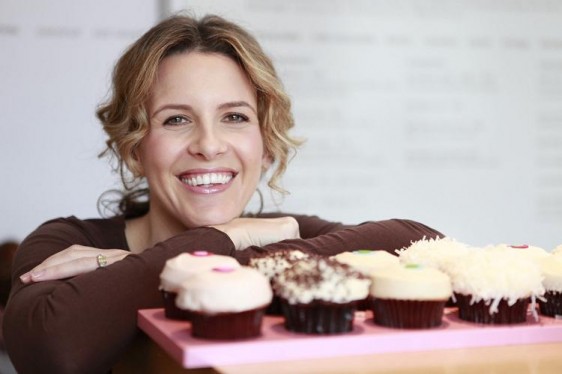 Photo by The Houston Press
I first found out about Sprinkles on an episode of Oprah. But according to Sprinkles.com, their praise and press doesn't stop at Ms. Winfrey. Some other media outlets who have sung sweet praises for these tasty treats? The Today Show, Nightline, Martha Stewart, Good Morning America and The Tonight Show (just to name a few).
And now, Candace has been kind enough to participate in my 3 Questions series. (Hint: the interview is best enjoyed over a Red Velvet cupcake.)
Me: What is something that makes you giddy like a kid?
CN: A decadent hot fudge sundae with nuts and whipped cream!
Me: What is something that makes you passionate like a grown-up?
CN: Working on new concepts for the Sprinkles brand.  Right now, we're working hard to launch Sprinkles Ice Cream and I'm pouring all my energy into the recipes – from housemade sauces to waffle cones to cookies and brownies.
Me: What were you looking forward to most when you woke up this morning?
CN: I'm flying home from a quick stint in New York where I visited our bakery there.  I had to leave my family at home so I woke up looking forward to seeing my husband and two sons later today!
***
Find a Sprinkles location close to you. Or, follow Candace on Twitter at @sprinklescandac.
"As a pastry chef, I just create flavors that I myself love to eat. The one exception would be a big one, which is our Red Velvet cupcake. I was never really a fan of Red Velvet — but my husband, being from the South, insisted we have a Red Velvet cupcake. And to this day it's our number one selling flavor." – Candace on the Oprah Winfrey show
Sigh. My husband is always right, too, Candace.
*3 Questions is a fun interview series where I ask the same 3 questions to different interesting people. See more interviews here.